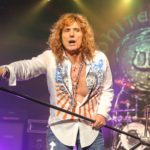 David Coverdale has confirmed Whitesnake's 2 first appearances on its upcoming farewell tour: a pair of European festivals next summer, including France's Hellfest on June 23, 2022 and Spain's Rock Imperium Festival the same weekend.
"We can't wait to see you & play for you at Hellfest Open Air Festival!!! We are so incredibly excited to announce our participation in the Rock Imperium Festival as part of the forthcoming farewell tour," said Coverdale.
The 69-year-old Coverdale recently confirmed that he plans to retire from touring after Whitesnake's next run of shows worldwide. Last year, Whitesnake was forced to cancel its U.S. tour along with Sammy Hagar & The Circle and Night Ranger so that Coverdale could undergo surgery for bilateral inguinal hernia. Eventually, all of the shows were canceled due to the coronavirus pandemic.
Editorial credit: Kyle Besler / Shutterstock.com