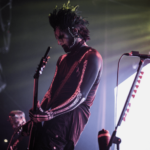 Static-X announced that they're road next year for their headlining 'Rise Of The Machine' North American Tour, which celebrates the 20th anniversary of their "Machine" album. The tour will also feature Fear Factory and Dope, with support from Muchroomhead and Twizted on select dates. The 'Rise Of The Machine' tour kicks-off on February 21, 2022 in Portland, Or at the Hawthorne Theater, wrapping up on April 3rd in San Francisco, CA at The Fillmore.
Static-X said: "We are so excited to finally get back out on the road. We plan to play most of the songs off of both Machine and Wisconsin Death Trip, as well a number of nice surprises that are being incorporated into the set list. It is going to be awesome to have Fear Factory, Dope, & Mushroomhead back out on the road with us to share in all of this nostalgic insanity. All in all, this package is going to be one for the ages and we can't wait to get out there and celebrate 20 years of our Machine record, while we continue to remember all of the good times that we had with Wayne and to share it live and loud with all of our fans night after night."
More information including tickets, meet & greets and other VIP experiences for the Rise Of The Machine tour can be found at: https://Static-X.com.
Editorial credit: ChrisJamesRyanPhotography / Shutterstock.com